The Herend fine china Cup Guide
Which Herend cup is used for what?
A cup is not just a cup at Herend. Just like there is not one flavor of coffee or tea. At Herend, you can find a vast collection of cup styles for your choosing. So what is your "cup of tea"?
Herend Espresso Cups
Espresso cups of Herend are used for strong coffee types such as espresso, ristretto, doppio or espresso con panna.
At Herend Austria, you can order different sizes. From 0,5 dl. which is for ristretto, 1dl., and 1,2d. is for larger espresso.
€

86 Net price
Apponyi / Chinese Bouquet Blue - Coffee / Espresso Cup and Saucer.
Herend fine china - 

AB3-X1

 Special Blue design.
 Apponyi is a classical Herend flower design.
Give aesthetics as a gift!
Add to cart
From 2 dl, up to 5 dl these are the biggest cups of the Porcelain Manufactory of Herend. Usually these cups have bigger diameters and lower heights. This is important for the hot tea as it is usually served hot.
Another reason to have this form of tea cup is to be able to use the traditional tea leaf filtering tool, the tea strainer.
€

115 Net price
Apponyi Green -
Tea Cup w. Saucer
724-0-00 AV -
Herend fine china.
This Herend c
up
is a classic
Tea Cup.
The 
Apponyi
pattern also known as
Chinese Bouquet
design.
Add to cart
These cups are 2 dl., suitable for the long coffee, americano, or cappuccino. The volume of the coffee is not so big, but this is understandable. The traditional European way of drinking coffee is 1,5-2 dl. for a cappuccino or long coffee. The tall form of the cup helps to keep the heat of the coffee, so you can enjoy longer the experience of a hot beverage.
€

1,027 Net price
Coffee Set for 2 Persons - 
Chinese Bouquet Rust/Apponyi Orange design.
Herend fine china Chinese Bouquet decor is a classical decor.
The most famous classic Herend design since 1931.
Add to cart
730 – A cup for coffee and tea
The cup between the Coffee and tea cups. This multi purpose cup is a perfect choice for gifting, as it is. This way you do not predict what to use it for.
€

115 Net price
Tea / Coffee Cup and Saucer - Chinese Bouquet Turquoise / Apponyi ATQ3-PT pattern. Herend fine china - 730-0-00 ATQ3-PT - Turquoise w. Platinum design. The classic Apponyi design is also known as Chinese Bouquet.
Add to cart
Herend Milk mugs
It is a perfect choice for hot chocolate, tea, or morning coffee. In addition, this cup is the answer to the need for an everyday cup, usually used in the morning or during a cold winter afternoon.
There are 1,5 – 2- 3 dl available.
Possible to order in all forms like Shell, Basket, Eszterhazy, and Lisse.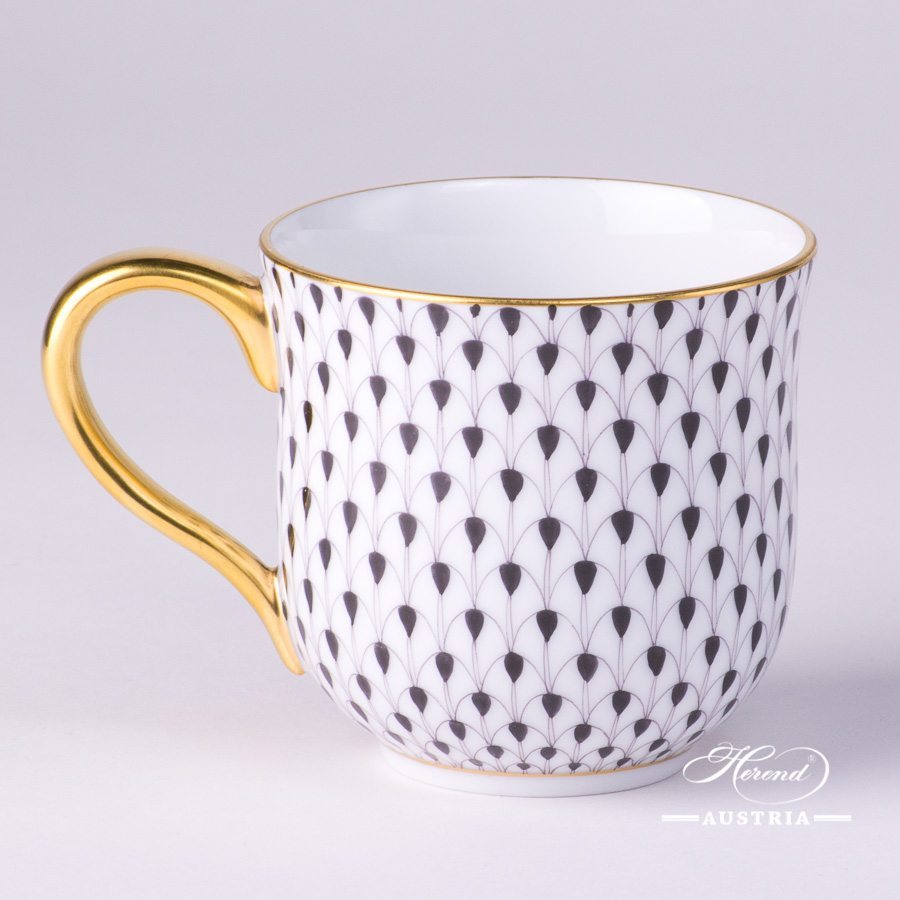 €

152 Net price
Universal Cup / Milk Mug - Black Fish Scale pattern.
Herend fine china - 2739-0-00 VHN Black Fish Scale design.
One of the modern Herend designs. Tea, Coffee, Espresso Sets
and
Dinner Services
are available.
Add to cart
Kid-Mugs
These Herend mugs are only for young ladies and gentlemen, as the volume is adjusted to them.  This mug is made of a more robust material (greater wall thickness), more challenging to destroy, and meant for the little hands of princesses and princes. The surface is usually Lisse, the simplest Herend form.
About Author