In this category you can browse Herend porcelain products based on the design pattern they are painted with. If you are interested in Victoria Rothschild or Apponyi design, select the sub-category with the respecting name. Some of the designs have sub-categories. For example Victoria design has different versions as the centuries are passing. Also, Apponyi – Chinese Bouquet – has different colour variations.
If you do not find any design or decor you prefer, do not hesitate to contact us!
Showing 1–12 of 501 results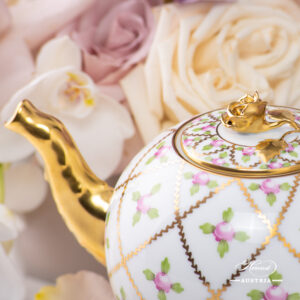 €

409 Net price
Herend fine china SPROG Teapot with Rose Knob - Herend Sevres Roses pattern.
1 pc – Herend Teapot – vol.: 1 Liter (33 OZ) 20605-0-09 SPROG
Add to cart