€

460 Net price
Mini Tea Set composed by Oriental Showmen FODO. Total: 3 pieces Herend fine china items. The Oriental Showmen FODO decor is painted with Oriental motifs in Chinoiserie style.
Add to cart
€

427 Net price
Herend fine china 4247-0-00 NY and 4249-0-00 NY - Tea Cup and Dessert Plate. It is an unique porcelain shape (form) is available only for Tea and Coffee Sets. Nyon is a classical Herend flower design. Give aesthetics as a gift!
Add to cart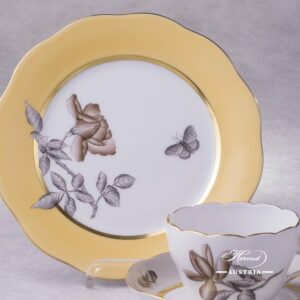 €

221 Net price
Victoria Grande - VICTMC Tea Cup and Saucer with Dessert Plate - Herend Porcelain Total:  3 pieces Herend porcelain items
This is a Herend Cup which is suitable for both Tea and Coffee. The  Victoria Grande-VICTMC 

Decor a modern variant of the Queen VICTORIA pattern.

Can be upgraded for complete Victoria Grande Tea Set. 
Add to cart