<iframe width="560" height="315" src="https://www.youtube.com/embed/5LVbqOp9v8Y?list=PLTgNLnLlWcYMKPEHgNcb6CloN-8VK0AtY" frameborder="0" allowfullscreen></iframe>
Queen Victoria avec Bord en OR – VBO reborn with platinum ornaments. Gold has been replaced by platinum, so the set has a fresh, modern look.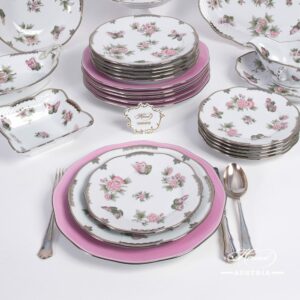 €

6,066 Net price
Queen Victoria Platinum - It is a modern Dinner Set. Platinum design VBOG-X1-PT has been created for the 160th anniversary of the original Queen Victoria pattern. The overall effect is noble, elegant and modern!
Add to cart