€

923 Net price
Herend fine china Tea Set for 2 People painted with the traditional Herend Chinese Bouquet - Apponyi Black - ANG pattern.
Add to cart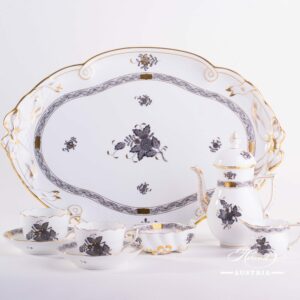 €

903 Net price
The origin of the pattern is associated with Count Albert Apponyi. Count Apponyi held a Gala Dinner for more than 60 guests. He ordered a new design, urgently. The Manufactory offered him a simplified version of Fleurs des Indes (Indian Basket decor). The Apponyi design has been redesigned many times. Also called as Chinese Bouquet. Apponyi Grey is one of the most recent redesigns. This Espresso Set is usually purchased for its simplicity. Our suggestion is to use it in offices, meeting rooms and official events.
Add to cart
€

86 Net price
Apponyi-Gray Decor Coffee Cup and Saucer - Herend Porcelain  
The Apponyi pattern also known as Chinese Bouquet.  
Apponyi-Gray ANG
 pattern is gray
 colour and the rim is gold.
This Apponyi-Gray Decor is a new version of the famous Apponyi decor.
Add to cart