€

201 Net price
Creamer / Milk Jug - Gold Fish Scale on Black Background pattern. Herend fine china - 20644-0-00 VHN-OR Black and Gold design.
One of the modern Herend designs. Tea, Coffee, Espresso Sets
and
Dinner Services
are available.
Add to cart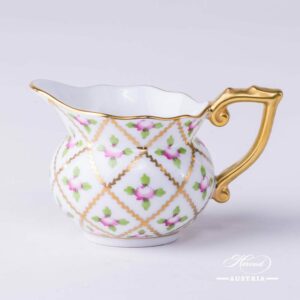 €

143 Net price
Herend fine china Creamer – Herend Sevres Roses SPROG design. Traditionally, many tea and coffee events took place with these rich gilded items. What is perhaps Herend's most classical design.
Add to cart