€

209 Net price
Coffee Cup and Saucer - Lilac Fish Scale VHL pattern. Herend fine china - 20706-0-00 VHL - Lilac Fishnet w. Platinum design. Saucer painted in Special fish scale design. Give aesthetics as a gift!
Add to cart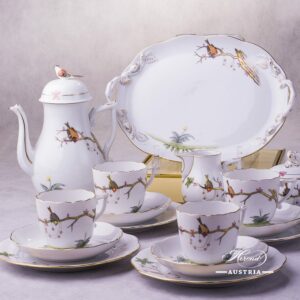 €

1,745 Net price
Dream Garden-REJA Coffee-Set for 4 Persons - Herend Porcelain
This Dream Garden-REJA
Decor is a modern version of the classical
Couple of Birds-RO pattern.
Total: 16 pieces Herend 
porcelain items
Here birds and trees become treasures as valuable as gold.
Grass grows both upwards and downwards from the clump of grass; the

 pearl necklace hanging from the branch defies gravity. The silver-grey leaves are sprouting on the tree branch, and in this dreamlike space the tiny timid birds genuinely merge into nature. Can be upgraded to larger 

Dream Garden-REJA

 Coffee-Set.
Add to cart