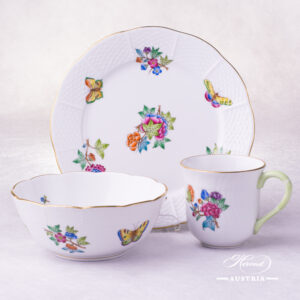 €

283 Net price
Queen Victoria A - Breakfast Set. Herend fine china - 3 pieces.
This Victoria decor is a classical design.
The most well-known classical Herend decor since 1851.
Add to cart
€

236 Net price
Oriental Showmen Mug - Herend Porcelain The Oriental Showmen FODO Decor is multi coloured
1 pc. Mug 2708-0-00 Oriental Showmen FODO Decor  2 dl.
This FODO Decor painted with different Oriental Showmen and Animals.
Add to cart
€

283 Net price
Universal Cup / Milk Mug - Old Queen VICTORIA pattern.
Herend fine china – 1729-0-00 VICTORIA design.
One of the most classic Herend design. Tea, Coffee, Espresso Sets

and

Dinner Services
are available.
Add to cart