€

863 Net price
Coffee Set for 2 Persons - Chinese Bouquet Turquoise / Apponyi ATQ3-PT pattern. Herend fine china - Apponyi ATQ3-PT - Turquoise w. Platinum design.
Tea, Coffee, Espresso Sets
and
Dinner Services
are available.
Add to cart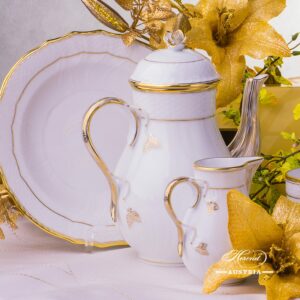 €

738 Net price
Hadik Essential Coffee-Set for 2 Persons - Herend Porcelain
This Hadik-HD Coffee-Set contains 9 pieces Herend porcelain items
White for cleanliness and gold for riches: the combination perfectly illustrates
the inimitable nobility and grace of porcelain.
This Hadik-HD Decor we recommend on Rocaille (Shell) porcelain form. Can be upgraded to larger Hadik Coffee-Set.
Add to cart