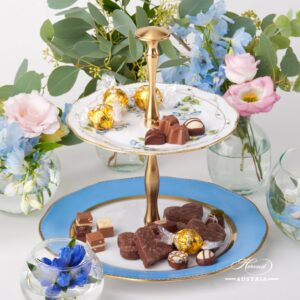 €

644 Net price
Herend Nyon / Morning Glory design - Cake Stand 2 Tier.
The Nyon design represents the Morning Glory flowers.
Nyon is a classical Herend flower design.
Add to cart
€

2,629 Net price
Cake Stand 2 Tier with Green Fish Scale - Rothschild Bird Green Fish Scale RO-ETV decor.
Traditional Bird design, ordered by the famous Rothschild family from the Manufactory of Herend.
Cake Stand RO-ETV for daily usage.
Add to cart