€

160 Net price
Pierced Napkin Ring - 3 Pieces - Natural Colour C pattern. Herend fine china - Natural Colour - C – Multicolor design. The Napkin Ring is an excellent gift for every Herend Collectors!
Add to cart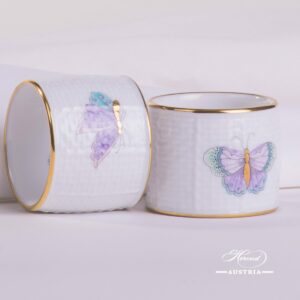 €

76 Net price
2 pc Napkin Rings - Royal Garden Turquoise Butterfly EVICTP2 pattern.
Herend fine china - Turquoise Butterfly design.
Email Victoria EVICT

 design is a modern Herend pattern.
Available in Green EVICT1 or Turquoise EVICT2 versions.
Add to cart