€

951 Net price
Herend fine china Vegetable / Ragout Dish - Herend Queen Victoria VBO design. The most famous classic Herend pattern since 1851. Available for Tea, Coffee, Turkish Coffee, Espresso Sets and Dinner Services as well.
Add to cart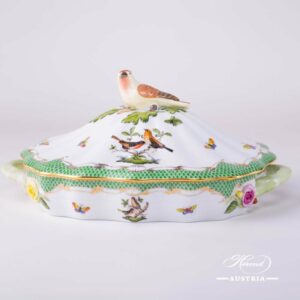 €

1,429 Net price
Vegetable / Ragout Dish - Rothschild Bird Green Fish Scale RO-ETV pattern.
Traditional Bird design, ordered by the famous Rothschild family from the Manufactory of Herend.
Vegetable Dish RO-ETV for daily usage.
Add to cart