€

497 Net price
Fruits with Turquoise Fish-Scale Dinner Plate - 524-0-00 CFR-ET - Herend Porcelain
This Fruits-CFR-ET Decor available with 12 different Fruits motifs. This Herend Porcelain Dinner or Meat Plate painted with Fruits with turquoise Fisch-Scale. This Fruits-CFR-ET Decor is available Tea, Coffee, Mocha

 and 

Dinner Set

too.

The Fruits with Turquoise Fish-Scale pattern only by Master Painter will be painted!
Add to cart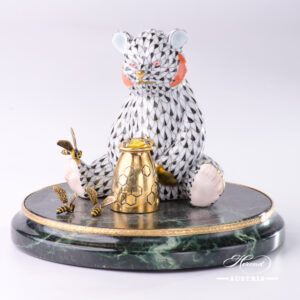 €

2,040 Net price
Jewelled Bear - Black Fish Scale pattern. Herend fine china - 

15361

-0-00 VHN

Black Fish scale 

design.
One of the jewelled Herend Animal figurines.
Add to cart